Mar. 2022:  She participated in NTCH's "2057: Rehearsing Ways of Living" project and co-created Cadavre Exquis: After 35 Years with Yu-Ju Lin.
Dec. 2021:  She presented her study on movements for We Island Dance Festival in Shulin Arts Center (New Taipei City).
Oct. 2021:  She participated in the "100 Sketches for the City" project of Nuit Blanche Taipei.
Sep. 2021:  Her 14-minute solo was presented by "14", a live streaming project with optional live commentary commissioned by Esplanade and conceptualized by Chen Wu-Kang and Sun Ruey Horng.
Dec. 2020:  Performance of RE: IN THE ELAPSED TIME in Huashan 1914 Creative Park (Taipei) and Chiayi Performing Arts Center, commissioned by Chiayi New Style Choreography Festival.
Dec. 2020:  Drifting Dust was exhibited in Chiayi and Madrid (Conde Duque-Centro de Cultura Contemporánea) as part of the "Freedom of Movement" project (co-organized by Chiayi Performing Arts Center, Taiwan and Asociación Paso a 2 Plataforma Coreográfica Cultural, Spain).
Nov. 2020-Jan. 2021:  Drifting Dust, the dance video she co-created with Cheuk-lam Chih, was exhibited in the "Taiwan Dance Platform" (National Kaohsiung Center for the Arts-Weiwuyingy). This work depicts a drifting and anxious mental status through the design of body dynamics and empty spaces.
Freelance choreographer, dancer and performer.
Born in 1984 in Tainan, Taiwan. Graduated from Department of Dance, National Taiwan University of Arts.
In recent years, Tien puts focus of her choreography research on human emotions shaped by time, history, culture and environment. Regarding choreography as the chisel of life, Tien attempts to cut away the contradictions and labels that hinder self-exploration, and uncover powerful emotions deposited in the body. While looking into the desire and fear in life, she also looks for the exits of life's trajectories, as well as their various possibilities. She also develops the potentials of body and movements through international exchange and collaboration with theater or performance arts, keeping connected with foreign cultures and other disciplines.
Masses, the work co-created by Shih-Wei Wang, Tzi-Mei Li, Helmi Fita and Tien was the winner of Performing Arts Award of the 18th Taishin Arts Award in 2020. In 2016 she was selected by the Ministry of Culture of Taiwan for the artist residency program in Paris. Her work The Hole was nominated for Taishin Arts Award in 2015.
Her works have been premiered in Taipei Arts Festival, Dance Massive (Melbourne), America Dance Festival, among others. The Hole and Stem have been presented respectively in Avignon Off, Shenzhen Contemporary Theatre Biennale and Dance Bridges Festival (Kolkata). Drifting Dust, the dance video she created with artist Cheuk-lam Chih, has been exhibited in Kaohsiung, Chiayi (Taiwan) and Madrid.
She has also collaborated with numerous choreographers and companies, such as Century Contemporary Dance Company, Shu-Yi & Dancers, Mikuni Yanaihara (Japan) and Sally Richardson (Australia). Since 2014 she has been the movement designer for various theater companies, such as Style Lab and Wind & Ear Studio.
Her choreography pieces include: Re: in the elapsed time (2020),  Lucid Dream (2019), In the elapsed time (2019), The Hole (2015), Blank (2015), They Dig a Hole under the Eyes (2014), Traveler (2012), and Stem (2011).
Lucid Dream
(1) Always confront and conquer danger in dreams; (2) always move toward pleasurable experiences in dreams; (3) always make your dreams have a positive outcome and extract a creative product from them… Each artistic creation is like pursuing the unknown – a lucid dream in which you are perfectly aware that you're striving for pushing …more…
---
In the elapsed time
The dancer, completely covered in white powder, uses Hip-Hop's technique to trigger a series of events: the powder flies off, drifts away and the human-shape afterimage lingers in the space. Eventually the powder falls down and the human form disappears, as if the elapsed time has been visualized. You can witness the disappearance, but cannot stop it …more…
---
The Hole
The Hole is the sum of all emotions. It embraces the dark moments that hit us like waves from time to time, using body to physically explore how emotions and feelings are created in the first place. As a response to the social conflicts and struggles originating from a turbulent society …more…
---
Stem
To reflect not only the security of "covering" and "veiling" in her personal life experience but also the self-contradictory conflict of being fettered, the dancer was covered by floral-print fabric from head to toe. Moreover, through this image, she tried to discuss the mental state and physical behavior when she was been watched …more…
《 》
In the performance, the choreographer exhibited her doubt and fear of self-identity as a Taiwanese from a bystander's perspective. Through the switch of the relations between a white male performer and a Taiwanese female performer, the choreographer tried to discuss Taiwanese people's self-identity difficulty and the alienation of national identity during the process of being constantly colonized.
Premiere: Aug.28, 2015 Taipei Zhongshan Hall ,Taiwan
---
They dig a hole under their eyes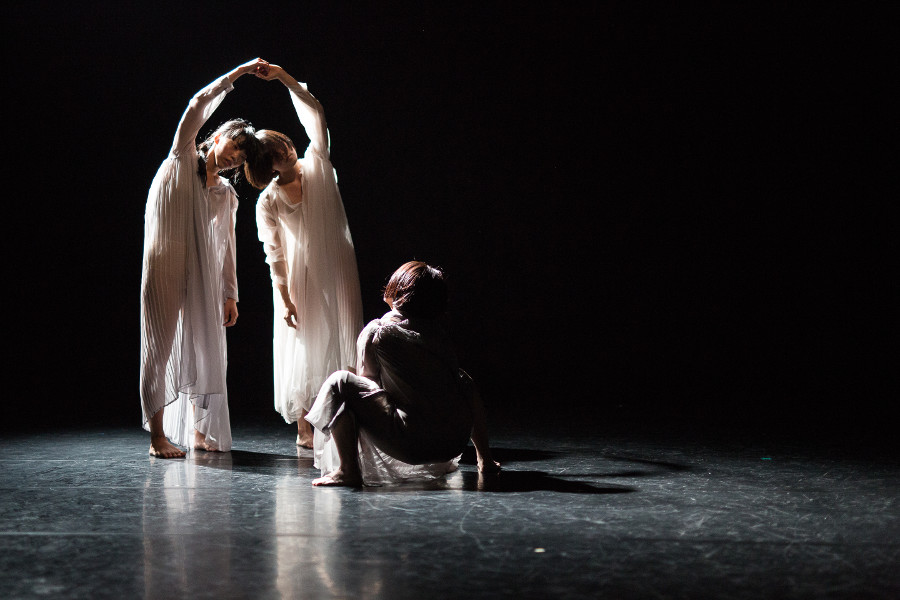 They dig a hole under their eyes is about the disguised or hidden feelings such as contradiction, confusion, disquiet. From recalling unforgettable events in memories, immersing themselves in emotions then developing movements, the three dancers collaged their personal life experiences and emotions to present those deeply buried feelings in the dreamy context.
Premiere: Sept. 26, 2014 Huashan 1914 Creative park, Taiwan
---
Traveler
Taking Franz Kafka's Rainy days and Mondays as the covert text, Traveler is presented in the solo dance to confer the unbalanced condition intermittently happening in life. Beside the text-disappeared and imitation vintage newspaper to represent our lost in media world, the choreographer also interwove concrete installation (chalet with leakage), lamp and all the body movements to poetically elaborate the pursuit of direction in life and the fatigue in lost. Through the concept of tilt and out-of-balance as the movement developing foundation, the choreographer presented the life moment of getting off-balance, being terrified and urgently trying to find a direction.
Premiere: Nov.23 ,2012 Experimental Theater(NTCH), Taiwan